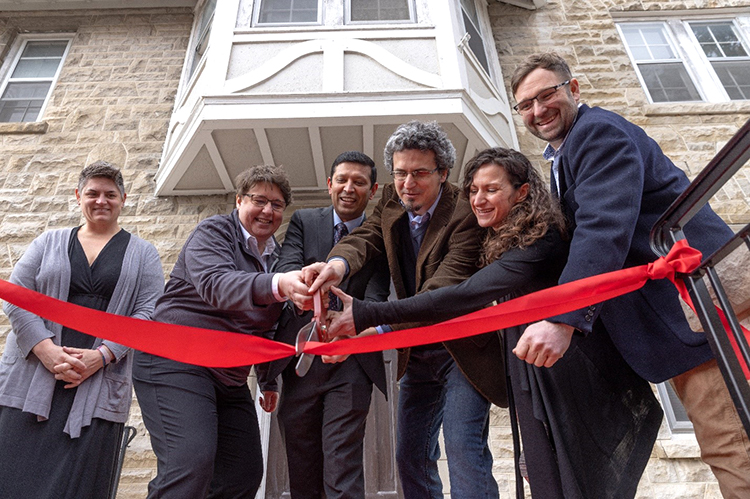 Fifty years ago on January 19, 1973, the proposal submitted by Vincent Ostrom for the Ostrom Workshop was formerly approved by Indiana University.   An idea inspired by working with carpenters to build furniture for their home, the 'Workshop' became a place where thousands of apprentices, students, and scholars from multiple countries and disciplines learned from one another. Today, as the Ostrom Workshop celebrates this significant milestone, thousands of 'Workshoppers' worldwide echo Lin and Vincent's beliefs that understanding good research demands a vast array of skills and methods, and that collaboration is essential.
Monday, January 23rd the Indiana University Provost Rahul Shrivastav, the Associate Vice Provost for the social sciences in the Office of the Vice Provost for Research, Brea Perry, and our first Colloquium speaker of 2023, Dr. Lauren MacLean helped our directors cut the ribbon on the brand-new front porch.  A celebratory lunch followed the well-attended Colloquium and a 50th anniversary sheet cake topped off the festivities.
As Scott Shackelford, the Executive Director for the Ostrom Workshop, shared about the Ostrom's, "From their modest initial proposal to the Political Science faculty… the concept grew to become what you see here today: a global epicenter of governance research with an ecosystem of research programs, working groups, visiting scholars, and fellows who are together tackling some of the hardest problems we fact, from climate change to polarization."
The Ostrom Workshop welcomes all the community near and far to engage in this year of research, collaboration, and celebration.